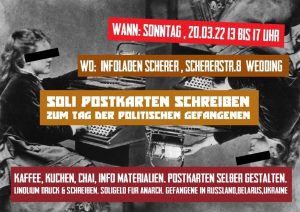 *english version below*
Zum Tag der der politischen Gefangenen wird es am 20.03.2022 von 13-17 Uhr ein Soli-Postkarten schreiben geben im Infoladen Scherer in der Schererstraße 8, 13347 Berlin- Wedding.
Neben Kaffee, Kuchen und Chai gibt es auch zahlreiches Infomaterial und Zines wie immer. Alle Einnahmen gehen diesmal als Soligeld an anarchistische Gefangene in Russland, Belarus und/oder die Ukraine.
Es werden Postkarten für Euch zum Schreiben bereit liegen. Außerdem könnt ihr Karten selber gestalten und drucken durch Linolschnitt.
Wir freuen uns auf Euch!
Euer Infoladen Kollektiv Scherer8
---
*english version*
On 20.03.2022 from 1-5 pm there will be a Soli postcard writing on the day of the political prisoners in the info shop Scherer in the Schererstraße 8, 13347 Berlin-Wedding.
In addition to coffee, cake and chai, there is also numerous information material and zines as always. All proceeds this time go as solidarity to anarchist prisoners in Russia, Belarus and/or Ukraine.
There will be postcards ready for you to write. In addition, you can design and print cards yourself by linocut.
We look forward to seeing you! Your info shop Kollektiv Scherer8